topanchor
Press Coverage
Business Standard, December 2016 
The Golden Sparrow, March 2016
 In Conversation with Janaki Visvanath, Founder Saathi Haath Badhana Social Foundation
 yourstory.com, August 2015 
Listening Post – A Talking Space
cityshor.com,June 2014
 Full Articles
Technology Knows No Age
Featured in the Business Standard on 17th December 2016  
WIDE ANGLE Business Standard WEEKEND

In Maharashtra,tech classes are helping the elderly embrace Skype and WhatsApp to stay connected with their families,writes Ranjita Ganesan
As someone who served in Maharashtra Police's wireless department for more than 3O years, Madhukar V Kulkarni was used to dealing with high-pressure situations. But an uncharacteristic fear struck the 88-year-old former cop recently, and its source was an innocuous black rectangle:a new HTC smart phone gifted by his family.The Pune man,who had until then used a basic Nokia device, worried he would "accidentally touch the wrong icon and set it off".
Kulkarni's daughter-in-law,however,had anticipated this scenario and prompted him to attend sessions at a local not-for-profit organisation where seniors like him gather every Wednesday to get familiar with modern technology. He began taking lessons in September,always writing notes. Young trainers—still studying or straight out of college—taught him things like how to save contacts or make calls.He checks WhatsApp message once everyday before bedtime but while some others in his class learnt to take selfies,Kulkarni drew the line there."I have no use for that."
He says everything he learnt in school and college is obsolete now.Several senior citizens in pockets of Mumbai and Pune are signing up for training to overcome their inhibitions with technology."Someone who is 80 now was around 50 when computers were first introduced and many of them decided they wouldn't learn at that stage,"says Janaki Visvanath,founder of Pune-based Saathi Haath Badhana(SHB),which holds free sessions on the subject."But with the pace of change now, they are feeling helpless. This know-how necessary for making them independent."
Visvanath first discovered this need through another of her ongoing initiatives called 'listening post',where locals are invited to vent in the presence of patient ears. At her snug office in Aundh,several seniors—a majority of whom are active and well-heeled—would talk of feeling lonely as their children were settled abroad.She first tried introducing group activities with other seniors but realised they wanted to connect with their kith and kin. She roped in four young assistants,including Arundhati Bhide,an instrumentation engineering student,and in April began teaching them to handle Skype and WhatsApp.
Demand has increased in the wake of demonetisation and the rapid move to make everything digital. The cash crunch caught them unawares.Despite reservations about e-wallets,they want to know how to use them. So Visvanath has been briefing them about the governmen's UPI app or Paytm,and even arranged for meetings with an expert on internet banking.Hema Wagh,one of the older locals who attended the session,says it will take another few sittings to feel comfortable with the idea. Sheilu Sreenivasan of Dignity Foundation too believes the shift takes time. "While many senior citizens,especially men,do a lot of trading on the net,they still mind using plastic money or credit cards."Her organisation too has weekly smartphone orientation gatherings.
During the hour-long training session in Pune, trainer Bhide asks walk-ins what they already know.After a quick assessment of a first-time attendee's needs,she makes a customised list of topics to cover. A whiteboard bears basic tips on choosing and remembering passwords. Bhide uses her own phone to demonstrate how to tweak settings,clean junk files,download an anti-virus app and install a taxicab app. She does not intervene,only guiding them where to look on the screen and they tap timidly until they land on the right icon.
The fact that the interface varies a little in each handset,website and mobile app adds to the challenge. At times,older users almost immediately forget the steps they have to follow,and it takes a month of regular use before they are confident.
Some nine percent of India's population is over the age of 60. A 2016 study by Ericsson,aimed mainly at identifying growth opportunities in the mobile broadband sector,noted that there has been an increase in mobile broadband use in people over the age pf 50. The primary motivations for them are to stay connected with loved ones,indulge in activities later in life,keep pace with the younger generation and follow work-related news. Seniors have started warming up to the idea of logging on to the internet with their phones,agrees Dignity'sSreenivasan.
The group's main need,the Ericsson study identified,is"support in using smartphone features and digital services".Indeed,while many older users have hi-tech apparatus,they lack technical acumen.They are often gifted gadgets by enthusiastic relatives and most are not aware of the various models of smartphones,usually referring to their handsets simply as"an iPhone"or "a Motorola".However, while this group views technology as complicated,it recognises the value of using smartphones. Pew Research Center found through surveys that older Americans are less likely to have broadband or smartphones,but among those who do,a majority say it is a "liberating"experience.
These sentiments are echoed in Juhu's Vidyanidhi Info Tech Academy(VITA)that has offered computer lessons to seniors since 2004. A smartphone and tablet assistance programme was added this December. Bandra resident Chander Nangia,who is a regular these days,says the internet acts as"the best secretary".He has learnt to look up numbers and addresses. The other favourites in this class are YouTube which allows them to find old songs,and WhatsApp,where they can exchange shayari.
Unlike the Pune service, the classes in Juhu are paid-for. The Rs.3000 fee for a period of one-and-a-half-months is affordable for the students are from affluent families in Juhu,Bandra and Andheri. The school thinks a higher fee would deter them because investing in senoirs is not really as profitable. Even if both his children are employed in the field of computers, 77-year-old Ashok Mehta says they could not help him learn."My repeated questions irritated them."His confession is met with a series of knowing nods.'They want to explain but they don't have the time or patience," says fellow senior Hansa Gosalia."If there was a problem,I waited for them to come back home and solve it."
The classroom feels almost like a support group, where everyone is connected by a common goal and age bracket. Seniors are comfortable learning from strangers,says VITA founder Savita Thakur. Vaishali Shah, the course trainer, says the job needs patience and care. Everyone has different priorities.Gosaila,for instance, has never used a desktop but wants to master using the tablet,so she can play Solitaire.Every tiny accomplishment results in a high magnitude of delight here.When one of the elderly students managed to Google the number for an ice cream parlour online,she was pleased and ordered some for her classmates.
The digital revolution has intensified the generation gap worldwide. In the semi-autobiographical Netflix show Master of None , creator Aziz Ansari wrote a full episode around his father having problems with the iPad. When he boasts about having taken a lot of photos on their New Zealand trip,his family corrects him,"No,you just took one long video."
On occasion, hours after their class, one of Bhide's elderly students will mistakenly dial her on WhatsApp, but she says that is a good thing."It just means they are practising at home.
Your Friend In A Stranger
Featured in The Golden Sparrow on 19th March 2016
Saathi Haath Badhana Social Foundation's initiative to create a confidential and non-judgmental space and lend a listening ear for strangers to share their problems covers people from all walks of life
BY SALONEE MISTRY
@SaloneeMistry
Kaushal Sanghvi never thought that a casual walk down the street in Aundh on that particular day last year could change his life forever. A signboard in front of an office caught the attention of the 33-year-old entrepreneur. He walked in, inquired about the activity that is going on and came out only to become a regular visitor since then. Neena Khaire (50) and Lata Ananth (54), teachers of Sanskriti School, Aundh, along with Kaushal are all part of the non-profit organisation Saathi Haath Badhana Social Founda­tion (SHB) almost since its inception about two years ago. Just like them are four more persons who have decided to devote some time to take up the role of listeners for complete strangers.
A volunteer at SHB Social Foundation explains a few senior citizens                           Lata Anant        Kaushal Sanghvi       Neena Khaire
how to use the smartphone and its different applications
LISTENING POST
Started with the intention to create a confidential and non-judgmental space for anyone and everyone from society, Listening Post was started in February 2014. It was a space that allowed people to walk in and talk to their heart's content about problems and issues that they are facing in their daily lives. They don't offer advice but simply listen.
Many people describing themselves as feeling 'bottled up' is a drawback of modern lifestyle. And they need a space to vent their frustrations, anger and emotions. "My husband is in the army and in the community that I live in people feel free to share with  me their problems or seek comfort. Being a volunteer at Listening'Post was an extension to something that I was already doing," said Lata,who is a primary school teacher. Listening takes a great deal of concentration. Most people are aware that other people don't listen. Problem solving is a huge part of her profession as well even if they are small children and she feels that she has gained a lot from this experience.
All one has to do is simply walk into the SHB office at Gaikwad Nagar in Aundh on Fridays and Saturdays in the evening. SHB founder Janki Viswanath decided that she wanted to keep the personal interaction anonymous but didn't opt for a helpline as she knew that a face-to-face experience will benefit visitors more. "Whenever someone comes and shared their problem with you and you are able to make them feel a little lighter simply by listening to them, you feel both worthwhile and empowered. Worthwhile because you could make a small difference and empowered because you could make them happy even if it was temporary," said Neena. A primary schoolteacher, with every interview her confidence to tackle issues is only increasing and sometimes she even discovers feelings that she didn't know she had. Listening Post is opoen to every single individual irrespective of age, gender, profession or community.One can also schedule an appointment in the week according to one's convenience if the person cannot make it during the slotted time.
SOMETHING FOR EVERYONE
Listening Post is just one the many social initiatives of SHB, including smartphone assistance for senior citizens. There are many elders in the neighbourhood who are leading lonely lives as their children are either working  in other cities or are settled abroad. With smartphones being the most effective means to communicate with their dear and near ones, Kaushal has been teaching these senior citizens how to use the different applications on their smartphones for the past one year. Terming the experience as enlightening, he said, "Learning smartphone functions is the key need for all of them. It is their escape from loneliness and reason for survival. Being a part of this activity and interacting with them has taught me to value my time with my parents."
The organisation holds workshops and seminars for schools and corpo­rates and raise funds to manage these social initiatives. Their discussion with young adults on gender and sexuality is path-breaking. Tackling social concepts of gender and enabling youngsters to come out of stereotypical gender behavior is one of their aims. They also hold support groups for those giving their board exams and for caregivers as well. SHB plans to roll out support groups also for PMILs (persons suffering from mental illnesses) and their families and also for LGBT persons and their families in the future.
salonee.mistry@goldensparrow.com
In conversation with Janaki Visvanath, founder, Saathi Haath Badhana Social Foundation
Featured on the website yourstory.com on 12th August 2015 When Janaki Visvanath finished her Masters from TISS in 1988 in Human Resources all she wanted was blue chip companies, travel, career and money. Rapid career ascension, foreign travel and marriage followed and all the boxes got ticked. At 33 when she had her daughter, she quit to be a stay-at-home-mom and enjoyed every bit of it. By the time her little one turned three and had started playschool, Janaki wanted to get out and start something. By then they had moved to Pune and the locality they lived in, Aundh, surprisingly did not have a good leisure bookstore. That's when she opened twistntales a neighbourhood space that was much more than a bookstore. She successfully ran the store for 11 years and enjoyed it thoroughly. When ecommerce started becoming the next big thing, she could see the writing on the wall. That was when she consciously decided to close down twistntales and celebrated the fact that while it lasted, it was joyous for everybody.
Within a year of closing twistntales, she started Saathi Haath Badhana Social Foundation.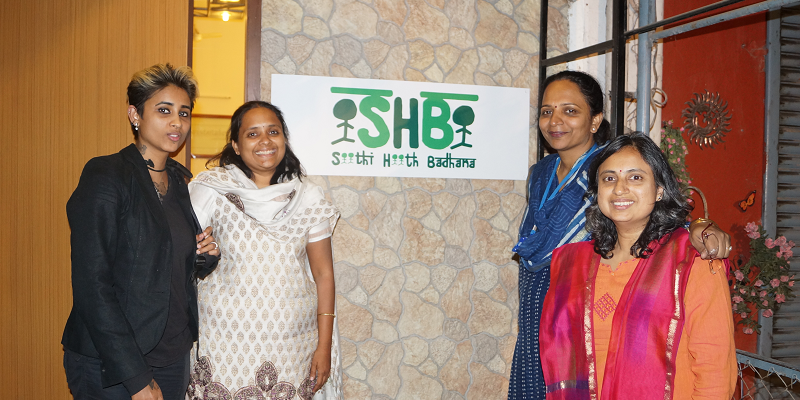 SHB aims at helping people tackle stress that comes from the fast, digital lifestyle that society is becoming a slave to. With a background in HR, Janaki always watched out for trends. She realised soon that though we as a society boast of being modern, we have very little civic sense. Instances of domestic violence, child sexual abuse, suicides and other such social issues impact our daily lives more than we realise. "Yes, cows should not roam freely on our roads, but I have seen enraged motorists honk madly at cows crossing the road! Something is surely wrong with us" says Janaki.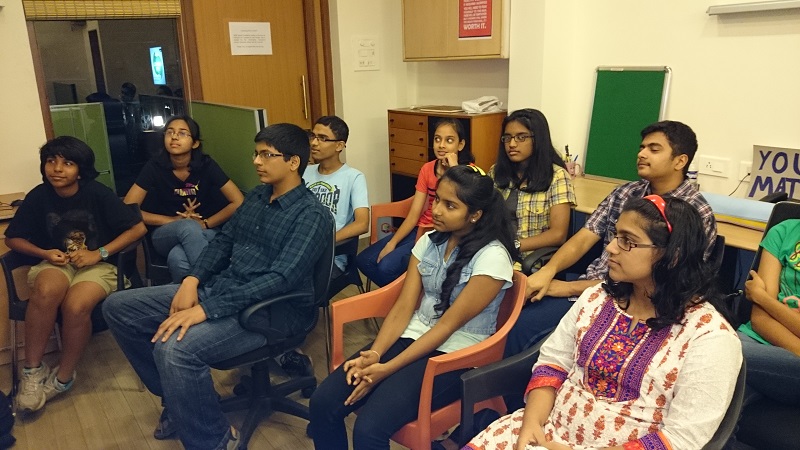 The only way to bring about a positive change is to work together towards one goal. And as the name Saathi Haath Badhana suggests, the idea is to collaborate and work with other organisations in the same space.
A very unique concept that SHB today has is the Listening Post. It is a 'vent' space offered to anyone who is going through a stressful period in life. Be it adults dealing with separation, layoffs, death of a loved one or students dealing with peer pressure, anxiety Listening Post is free and open to anyone who wants to talk about their problems. SHB has listeners who are trained in compassionate listening; a process of active listening that soothes the mind.
More on SHB's work
SHB focusses on three main areas under which their reach-out programmes are conducted– Compassion, Gender Issue and Life Skills.
Under the Compassion vertical, apart from the Listening Post there is another distinctive programme called "Caring for the Caregiver" in which there are group sessions for all caregivers to help unwind and release their own stress.  There is Smart Phone assistance programme for senior citizens every alternate Wednesdays.
Under the Gender Issue vertical, SHB works with schools, young adults and Corporate India. In schools, SHB conducts workshops on preventing Child Sexual abuse for teachers, non-teaching staff also making them aware of legal provisions under the POCSO (Prevention of Children from Sexual Offences) Act. The young adults, typically children in 9th standard and above are made aware of gender, sexuality, stereotypes, expression and identity. Lastly, their work with corporate organisations involves awareness sessions on Prevention of Sexual Harassment at the workplace.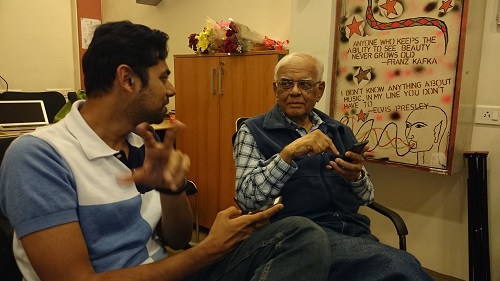 Under the Lifeskills vertical, Janaki and her colleague Vibha are qualified coaches who mentor other individuals. They also work with educational institutions like ITI and others to build life skill modules as part of their ongoing courses. All programmes under all three verticals are run with the help of volunteers.
Other activities by SHB that have received great response are the Saturday morning workshops that happen on the SHB premises in Aundh, Pune. These are hobby workshops conducted by skilled teachers to provide an opportunity for people to interact and learn newer skills.
Janaki hopes that each one of their programmes benefits more and more people from all classes within the community eventually bringing in a wave of change. Currently self-funded, the programmes in schools and corporates are chargeable and the revenue is used to fund other in-house projects.
Janaki adds
In a changing world, if our mental mind-sets do not evolve, we will face mental and social stress. I know that one person can't do much to bring about this change, but together we can. Collaboration is the way forward.
anchor4
Listening Post: A Talking Space
Featured on the website cityshor.com/pune in June 2014
"Man Is A Social Animal", how many times have we come across this statement in our high-school days? Such a basic issue this statement talks about. A part of it means that you need to talk and listened to; in short you need to communicate!
With the families going micro and life getting only about work and career, many have just forgotten the above statement. Many a times, you feel like talking but none to listen to you. There can be a little issue bothering you for long and you can't talk about it to anyone. Reason can be anything, but you need to talk! It is not necessary that you need to talk because there is an issue or a problem, but you just want to share something or just talk generally. You may also feel like sharing something joyful, but maybe there is no one who will listen to you with 'compassion'. Why is CityShor writing something like this today? Are we getting philosophical? Maybe yes. A small space in Aundh 'Listening Post' got us intrigued and interested. Now we share the concept 'Listening Post' with you! It is the space where 'anyone' can go and talk out anything that they want to, about some issue, joy or just plain simple friendly talks! The people over here will 'listen' to you, with compassion! That's all these people do, for doing something good to society. It is an initiative by Saathi Haath Badhana, an NGO which strives to work in three fields, viz. Compassion, Gender Mainstreaming and Transitional Skills. Let us assure you that this space is safe and confidential, you don't even have to disclose your name. So we would say, if you want to open up and don't have anybody who will listen to you, 'Listening Post' is here for you. When you walk in, you will meet a 'Listening Champion' for your first conversation. There is no time limit and you can be rest assured that you speak to trained professionals. You may go back as many times as you choose, and you may converse with a different volunteer each time. The volunteers speak a variety of tongues and will ensure that you are understood. As you talk with them, you will be able to work your way to an easier mind and a clearer vision of how you can cope or resolve your issues. Listening Post can be created anywhere and they can help you create it in school, college and corporate. All Listening Post walk-in services are free of charge. Drop in hours: Monday 2.30pm to 5.30pm Wednesday 10.30am to 1.30pm Friday 5.00pm to 8.00pm http://saathihaathbadhana.org/htmls/services.html Address: SHB Social Foundation, Shop 1, Siddharth Building, Near Chitale Bandhu, Gaikwad Nagar, Aundh.
Tags: listening post, saathi haath badhana, pune